Now Hiring CDL Drivers!
Trash Removal in Sevierville, TN
A & A Construction Waste Removal LLC aims to meet your waste collection and disposal needs. We provide customers with affordable rentable roll-off dumpsters, industrial trash compactors, and timely construction junk removal services.
Contact us today and help us to understand your needs, so we can ensure they're met with the right products and services.
Contact Us Today! Honesty, Integrity, and Reliability
Our family-owned and -operated company has been serving the needs of local-area customers for more than 25 years. We promise you'll always be treated with the utmost respect, honesty and professionalism. We're well-known for our superior customer service!
Waste Collection and Junk Removal Services
There's always going to be debris and rubbish on a construction site, which means you're always going to need a place to put it. Instead of letting it litter your worksite, causing hazards and obstacles, choose A & A Construction Waste Removal LLC to help you effectively manage your construction debris. We provide complete waste solutions, including dumpsters and trash removal in Sevierville, Sevier County, Catlettsburg, Cherokee Hills, and Smoky Mountains, TN. We're your partner for a cleaner, more organized, safe construction site.
We offer dumpster rentals in a variety of sizes and styles, suited for just about any construction worksite. Choose from 10-, 20- and 30-yard dumpsters, as well as roll-offs. We also rent industrial trash compactors as-needed for specific projects. Regardless of the rental in Sevierville, TN you choose, we'll make sure it's dropped off in a timely manner, for a fair rate. Then, when it's full, you can count on us to take it away. Our trash removal and junk hauling services are second to none, and we promise they'll help you keep your project on-track.
Our selection of roll-off dumpsters and waste disposal equipment is extensive, diverse enough to meet any needs, for any size project.
We take the time to speak with our customers, so we can fully understand what you're trying to accomplish. Then, we pair you with the equipment that suits your needs.
In addition to waste disposal, we also offer industrial trash compactors and provide custom septic tank manufacturing.
As a full-service junk removal services provider, we're committed to meet your needs no matter what they are. We'll be happy to discuss your scope of work and make expert recommendations where needed.
Count on us to serve your best interests, so you can focus on what really matters: Getting the job done right.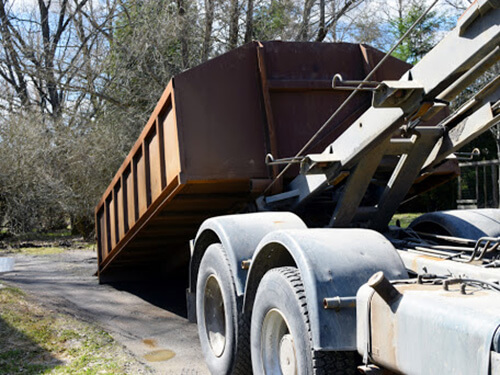 Handle Rubbish the Right Way
Let us provide you with dumpsters and trash removal services, to keep your worksite clean and organized, free of debris and hazards.
Contact us today to discuss your needs.
Locally -Owned & -Operated
Proudly providing junk removal, dumpsters, and more for:
Sevierville, TN
Pigeon Forge, TN
Gatlinburg, TN
Sevier County, TN
Knox County, TN
Cocke County, TN
Hamblen County, TN
Jefferson County, TN
Blount County, TN
Knoxville, TN
Jefferson City, TN
Dandridge, TN
Maryville, TN
Alcoa, TN
Newport, TN